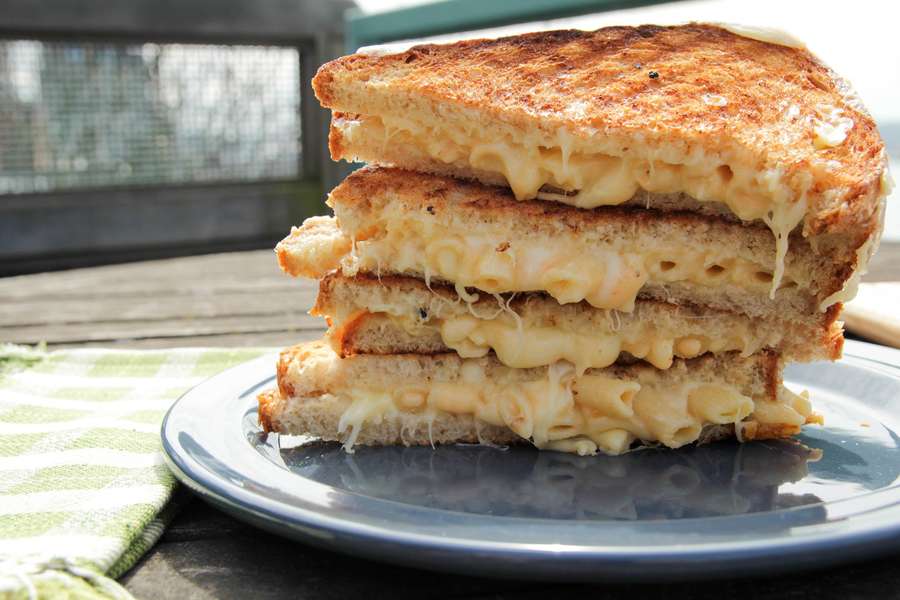 Get started on them ASAP.
Seattle's stunning seafood stars in headlines, but the local signature specialties include so much more—everything from vegan ice cream to deep-fried hamburgers. The best food and drinks in the city show off the laidback Pacific Northwest attitude, heavy influence from a variety of Asian cuisines, and a creative class of cooks catering to an open-minded audience. For a true taste of Seattle, any visitor needs to make their way through this list of the city's best, most iconic, and most beloved foods.
Mee Sum Pastry | Photo by Chona KasingerPike Place Market
Seattle's central market has long welcomed locals, tourists, and immigrants alike, resulting in this Chinese bakery, whose case stays stocked with oversized doughy pot-stickers and delicate almond tarts. But along with the savory specialties and traditional baked goods, sits a slightly bastardized version of the classic Chinese bao. With the uniquely regional moniker "hom bow," the bun consists of a fluffy dough wrapping around thick, savory Japanese-style curry. A sweet and crunchy pineapple bun-style topping adds texture to the bun, which, much like the market itself, brings a variety of flavors and cultures together.
How to order: This bakery counter continues business as usual in-person only—don't be confused by the online ordering system of the sit-down sister restaurant by the same name.
Coffee
Perhaps the food or drink most synonymous with the city, coffee holds an oddly special place in Seattle. It's not grown here and there's no natural resource that would make Seattle any better at coffee than anywhere else, and yet, Seattle loves its coffee. While outsiders might immediately pin that onto a certain mermaid-branded international chain, in reality Seattle loves its independent shops, with a few in each neighborhood. Whether at old classics that brought espresso to popularity in the U.S. like Vivace or the cutting-edge third wave roasters like Fulcrum, Seattle's coffee scene keeps everyone caffeinated.
How to order: Quickly, if there's a line
Photo by Bradley Foster
Seattle Dog
Various locations
Ask for a schmear on your sausage anywhere else, and expect some strange looks, but here, cream cheese sits in the condiment section alongside mustard and relish. The strange but strangely delicious quirk of local late-night hot dog stands started sometime in the '90s and remains a steadfastly Seattle tradition. Vendors squiggle the cream cheese onto a toasted bun with a contraption reminiscent of a caulking gun. Though everyone's condiment choices vary beyond the cream cheese, one favorite adds caramelized onions for sweetness and fires up the flavor with a little hot sauce. While any place in the city that sells hot dogs offers the option, it tastes best on the corner of 11th and Pike, well after midnight.
How to order: Walk up to any local hot dog cart like Monster Dogs, Comet Dogs, or Dante's Inferno DogsVarious locations
Long before salted caramel became the trendy ice cream flavor du jour, this local chocolatier had already sussed out the perfect pairing and was enclosing them in its signature chocolates. The company still dips the buttery filling into rich organic, fair trade chocolate and sprinkles with French gray salt right in town at their Georgetown factory. The resulting soft, chewy treats make the perfect local-themed gift for friends—or to yourself.
How to order: Order online for pickup at any local shop
Thrillist TV
History ofS1 E22
The History of the McRib
Courtesy of KamonegiFremont
While ramen still rules the world as the trendy Japanese noodle of the moment, soba awaits its turn to take the stage. From her Fremont kitchen, Mutsuko Soma shows exactly why the buckwheat noodles deserve more attention, making and cutting the nutty, smooth specialty fresh each day. She serves soba in a variety of styles—hot, cold, dipped, and mixed—but this most basic version, with chilled noodles and chilled broth, offers the best opportunity to explore the subtleties of the each element, the cool and clean flavor making an essential complement to Seattle's long summer evenings.
How to order: Order online, in person, or by phone for takeout, or via Uber Eats for delivery
Geoduck
Various locations
No animal better captures the sea air and mild quirkiness of the Pacific Northwest than its de facto mascot, a giant clam called a geoduck. The name serves to screen for locals—they pronounce it properly, as in goo-ee-duck—though even the most hardened flannel fan can't resist a giggle at the phallic shape. But for all the joy just talking about geoduck gives people, it also tastes great. Sliced thin for sushi its gentle crunch releases a subtly salty wave of flavor, while stir-frying it adds a briny chew.
How to order: Look for it raw at Sushi Kappo Tamura or Taylor Shellfish or in fried rice at Joule.
Courtesy of MarinationVarious locations
Marination Mobile, one of the pioneers of the city's food truck renaissance in the late '00s, infused Seattle with Aloha and popularized the Korean-style taco. But less famously, it also reminded the Northwest of the inherent beauty of canned lunch meat. Spam finds its truest calling glazed with teriyaki sauce, sliced, laid on a bed of crunchy coleslaw, and slapped between two halves of a sweet slider bun slathered with Nunya sauce. The soft bun and crisp vegetables add layers of contrasting textures, while each of the sauces and the Spam itself create infinite nesting dolls of umami.
How to order: Order online for takeout
Dutch Baby 
Tilikum Place Café
Lower Queen Anne
Seattleites take ownership of the giant baked souffle-like pancake called a Dutch Baby, and this tiny shop at the foot of the Space Needle honors the local favorite better than anywhere else. The beloved, if somewhat apocryphal, story of its invention nearby at the erstwhile Manca's Café claims that a misunderstanding about a German (Deutsch) pancake led to the name. But regardless of its origins, the fluffy favorite comes to the table puffy and hot, jumping out of the pan in which it is both cooked and served, topped with powdered sugar, roasted apples, or a savory mix of ham and cheese.
How to order: Call in at 206-282-4830 for takeout
Courtesy of Dick's Drive In RestaurantVarious locations
Seattle's longest running mystery asks if the greasy bundles of joy unwrapped on your lap at midnight actually taste good or if it depends on how many beers you drank beforehand. But the true answer matters very little, as any local knows that when the sun goes down and the big orange sign beckons, a Dick's Deluxe hits the spot better than anything in this world. The two small, never-frozen patties on fresh, locally made buns with cheese, lettuce, mayo, and relish simply add up to the flavor of Dick's-fueled nostalgia – always punctuated by the disappointment in their soggy fries and the upcharge for ketchup.
How to order: Order in-person for takeout or via DoorDash for delivery
Salmon Nigiri at Maneki
International District
Usually fresh is the most desirable thing for a sushi restaurant, but at more than a century old, Maneki still beats the fish-loving pants off any other place in town. From its historic Japantown location, the warren of tatami rooms and walls papered with specials written in two languages creates a calm, comforting atmosphere – and any of the specials show of the restaurant's seafood skills. But the salmon nigiri highlight the best of this old-school restaurant: giant blankets of gleaming orange fish draped over gently shaped, cohesive, petit balls of rice.
How to order: Order online for takeout
Courtesy of Beecher's Handmade CheeseVarious locations
Local darling Beecher's Handmade Cheese makes its legendary Flagship, snackable curds, and long line of dairy delights in full view of the Pike Place crowds, demonstrating the fidelity of the ingredients and the process from behind the glass as the line to taste wraps around the corner. But locals looking for lunch at any of the Beecher's locations—including in SeaTac Airport—know the best way to eat Beecher's cheeses is melted into their signature grilled cheese. The simplicity lets the nutty Flagship and creamy Just Jack cheeses take the lead, with a subtle boost from the panini press toasting for a killer combination of crunchy bread and melted cheese.
How to order: Order online for takeout
Hommous bi Lahm ou Snobar
Cafe Munir
Ballard
Hummus—that Middle Eastern chickpea dip popularized in America mostly by hippies—hardly makes headlines as a wow-inducing food. But only because the version at this Lebanese café stays tucked away in a far corner of a residential neighborhood. Freshly made and whipped into a concave well, the hummus creates a hole that Munir fills with spiced ground lamb, sizzled in butter with pine-nuts and still bubbling as it warms the dip, adding layers of textures, flavors, and even temperatures, ready to be swiped up with a piece of pita.
How to order: Call for takeout at 206-783-4190. 
Courtesy of Ellenos Real Greek YogurtPike Place Market
Made with rich local milk in a nearby factory and often incorporating local produce, Ellenos' yogurt's sour cream texture and pie-like sweetness fits in as easily for dessert as it does breakfast. From the flagship store at the main intersection of the Pike Place Market, it took little more than a few sample spoonfuls handed out to hungry shoppers to convert the city into devotees of this Australian-style Greek yogurt. Even without tempting tasters, the gleaming jewel-toned fruit toppings lure customers to the ice-cream-shop-style set up to buy a walk-around cup or take-home container.
How to order: Order online for curbside pickup
The Cookie*
Metropolitan Market
Various locations
So famous it doesn't even need any details in its name, but simply goes by "The Cookie," holds a spell over Seattle grocery shoppers. Its smell, of butter, chocolate, and barely cooked dough, wafts out from the bakeries in Metropolitan Market's high-end stores taunting anyone who thought they could walk by without one. Practically the size of a salad plate and loaded with two types of chocolate plus toasted walnuts, it somehow manages to be chewy, crispy, and soft all at once. Presumably, that comes at least in part from cooking them constantly throughout the day so they're always fresh from the oven.
How to order: In person or through Instacart
*Full disclosure: The author worked for the company during and specifically on the launch of this product.  
Courtesy of Toshi's Teriyaki GrillMill Creek
You can—and should—find a teriyaki shop every few blocks all over Seattle, but truly understanding why this pseudo-Japanese budget meal represents the city so much requires a trip to the suburbs, where its inventor, Toshi, still mans the grill. His sweet glaze never edges into cloying and the tender meat and crisp char come from cooking to order—a rarity these days. Once a scion of teriyaki franchises, now the immigrant who made snow white rice, a specific salad, and a tweaked sauce from his homeland city's signature stays focused on the Styrofoam container in front of him, even as his invention keeps locals lunching for less.
How to order: Call for takeout 425-225-6420
Courtesy of JuneBaby
Pimento Cheese at JuneBaby
Ravenna
Edouardo Jordan's Southern food travels terrifically, meaning the takeout meals lose little while his restaurants close to indoor dining. But one of the joys of bringing home JuneBaby's family-style specials comes from taking on as many orders of his signature Pimento cheese as you can imagine eating. What the creamy, lightly spiced mixture of Sharp Cheddar cheese, mayonnaise, and perfectly pickled pimento peppers lacks in house-made crackers from the table service days, it makes up for in big, bold flavor—and your ability to eat it straight from the tub, in unknowable quantities.
How to order: Order online for takeout or find it for sale in some local grocery stores
 International District
When Chera Almag first made her mark on the Seattle food scene, it came through pop-ups and word of mouth, inspiring the name "Hood Famous" that she used as her baked goods landed first at local stores and then in the pastry case of her Ballard shop and then her International District café. The combination of flavors from her Filipino heritage with classic favorites started with her ube cheesecake, which draws on purple sweet potato for its vibrant color and beguiling flavor, and replacing the citrus in lemon bars with calamansi, but now extends to coffee, savory dishes, and cocktails.
How to order: Pre-order online for Wednesday pick-up or walk in Thursday through Saturday
Courtesy of Miyabi 45th
Fresh-shucked Oysters
Various locations
Plump and filled with the flavor of the Pacific Northwest's clean, salty waters, no food represents the seafood-forward, environmentally conscious region better than these local bivalves. The same chill of the frigid waters of Puget Sound and the nearby Pacific that turns swimmers' toes blue in minutes keeps the local oysters briny and bountiful year-round. The small, coppery native Olympias, meaty and ubiquitous Pacific variety, and even branded tumbled designer ones pop up on menus everywhere, garnished with the classics like horseradish and lemon or with signature mignonettes featuring fish sauce or gin.
How to order: Look for discounts by the dozen at happy hours all over town
Courtesy of Frankie & Jo'sVarious
Seattleites long ago learned to stop asking if plant-based ice cream could compete with the animal dairy version, and started asking if any scoops in town could come close to the silky texture and big, rich flavor from this mini-chain. Stemming from a collaboration between a juice café owner and a pastry chef, Frankie and Jo's uses nut milks and coconut milks to build silky smooth bases that they flavor with natural ingredients including local produce. The signature gray salty caramel ash brings a complexity and unique flavor that helped catapult the shops' popularity—and it looks great on Instagram when set against the stores' bright patterned wallpapers.
How to order: Stop by the shops or get it shipped (nationwide)
 
Biang Biang Noodles
Various locations
A decade ago, Xi'an food barely existed in Seattle, but in the years since the city gained enough spots to make it a competitive scene—especially when it comes to picking a favorite biang biang noodles. Named onomatopoeically for the sound of the dough slapping against a surface as they are made fresh by hand, the long ropy noodles also take their long, ropy shape and delightful gentle chew from the process. Most often served in hot oil that sears aromatics like garlic and peppers piled on top, the dish sizzles with spice.
How to order: Find them at restaurants including Xi'an Noodles, Qin, Miah's Kitchen, and Biang Biang Noodles, among others.
Courtesy of White Swan Public HouseSouth Lake Union
Arriving to the seafood hot spot, visitors often expect clam chowder, but while the clams in Seattle deserve the spotlight, they shine better on their own than buried in soup. At this casual lakeside spot with a stellar view, though, they figured out a way to incorporate the clams and chowder in a way that keeps the shellfish as the star: by pouring it over French fries. The soup, bolstered by bacon, soaks into the potatoes, which lift the clams to the surface, making this an instant classic (and arguably, a dish that deserves much more attention).
How to order: Call for takeout 206-588-2680 or stop by the walk-up window (seasonal)
 
Pho
Various locations
Seattle's multitude of Vietnamese restaurants and chilly, wet weather combine to make this rice noodle soup one of the city's most quintessential dishes. With at least a few pho restaurants in each neighborhood, the warm spices and soul-warming broth loaded with fresh herbs and rice noodles blanket the city in a star-anise-scented hug. Depending on preference, day, or mood Seattleites turn to versions made with the highest-quality ingredients at Ba Bar, fresh rice noodles made in-house at Dong Thap, or from Than Brothers, the city's own ubiquitous pho empire—where each bowl comes with a cream puff.
How to order: Varies by restaurant, but check out Ba Bar, Dong Thap, or just walk outside and order from the first place you see.
Paseo Caribbean Food
Caribbean Pork Sandwich
Various locations
Once upon a time, a small space in Fremont called Paseo served a vaguely Caribbean-inspired sandwich with marinated and slow-roasted pork, big, sweet rounds of caramelized onions, a wallop of pickled jalapeños, and a garlicky slather of aioli. Fans lined up around the block despite the sporadic schedule and occasional bread shortages. Then, an employment lawsuit sent the owners scrambling to sell and the new owners expanded the shop to multiple locations and created systems to run smoothly. Meanwhile, the old owners opened up their own shop (Un Bien) serving the exact same sandwiches. Now, it's tough to say which is best or which is even the original—and in the meantime, Bongo's opened on the shores of Green Lake serving something quite similar, throwing their own hat into the battle for sandwich supremacy.
How to order: See websites for Paseo, Bongo's, and Un Bien
 Various locations
Oversized and bright red, this crustacean is practically a symbol of the bountiful seafood of the Northwest but even its visible glory belies the sweet, tender meat inside. To put it plainly: This crab is absurdly delicious. At this restaurant from a fifth-generation family shellfish farm, they know exactly how to show it off best: cooked, chilled, cracked, and most importantly, unadulterated—save for a squeeze of lemon and the option of their secret dipping sauce.
How to order: Order online for takeout
Courtesy of Sushi Kashiba
Omakase or Bento Sushi
Various locations
In more normal times, nothing shows off Seattle's wealth of sushi talent quite like omakase—sitting down across the bar from a fish slicing master and letting them hand over that day's freshest and finest catch, dressed to the nines, piece by piece. But the hours long symphony of sashimi and nigiri punctuated by close contact and bare hands fails at feasibility right now, so instead local shops pack their superb selections of tuna and sea urchin into fancy boxes for customers to pick up and enjoy at their leisure, adding artistic touches of colorful roe.
How to order: Order online for Sushi Kashiba's high-end version, or head into By Tae for a more casual one.
 
Ethiopian or Eritrean Vegetarian Combination
Various locations
Seattle's Eritrean and Ethiopian restaurants long found popularity among local diners with brightly colored, healthful, and flavorful stews. But in the last decade or two, particularly, the gluten-free nature of injera—the staple bread—and the heavy focus on vegetarian foods. With the vegetarian combo, a staple of nearly every Ethiopian spot in the city, menus make it easier for solo diners or couples to sample a wide variety of dishes and give newcomers to the cuisine an easy entry point. Most include sauteed cabbage and potato, greens of some sort, a chickpea flour stew, and a few different lentil stews, along with a salad and the injera.
How to order: Look online for Meskel, Ahadu, Jebena, or Amy's Merkato
Courtesy of Two Beers Brewing CO.
IPA
Various locations
The India Pale Ale, a bitter and hoppy beer, played a huge role in creating Seattle's prominent local brewing scene. Because about three-quarters of the country's hops grow in nearby Yakima, it makes sense that beers here feature them. That inclination toward the style now known as West Coast or Pacific Northwest IPA also brought much attention and popularity to microbrewers starting in the '90s and pushing the scene forward ever since. Few bars in town would dare leave a local IPA off the menu, but for the widest selection try one of the local taproom and convenience store mashups like Chuck's Hop Shop or Super Deli Mart.
How to order: Get one literally anywhere.
Banh M
Various locations
Seattle's answer to the Philly cheesesteak, the Chicago-style Italian beef, and New Orleans' po' boy comes in the form of this Vietnamese sandwich. Found all over the city at absurdly affordable prices, this adopted imported signature dish comes on a crackly baguette swiped with mayonnaise and stacked with sharp carrot and daikon pickles, spicy jalapeños, and a bright garnish of cilantro. The fillings range, usually involving various combinations of Vietnamese-style charcuterie—pate, ham, and head cheese—but also egg, fish, grilled meats, or tofu, and even corned beef at Banh Town.
How to order: Find the closest shop to you or a local favorite like Tanh Son Tofu, Q Bakery, or Saigon Deli and pick a filling.Naomi Tomky has eaten all of these dishes  — so at least she'll die happy — and posted about most of 'em on Twitter @Gastrognome and Instagram @the_gastrognome.
Our Newsletter